Moon Sighting has become the controversial thing from the last few years and also demanded an amount to track the Moon on both Eids. Federal Minister Fawad Chaudhary has now settled the issue by launching Pakistan's first official Moon-sighting website and lunar calendar.
Pakistanis now can track the entire upcoming Islamic event from this website call pakmoonsighting.pk and according to this website, Pakistan is going to celebrate Eid-ul-Fitr on June 5, 2019. This website no doubt will help in tracking all the events like Eid, Muharram, Rabi-ul-Awal and the plus point is that you can track all the upcoming events of the next 5 years.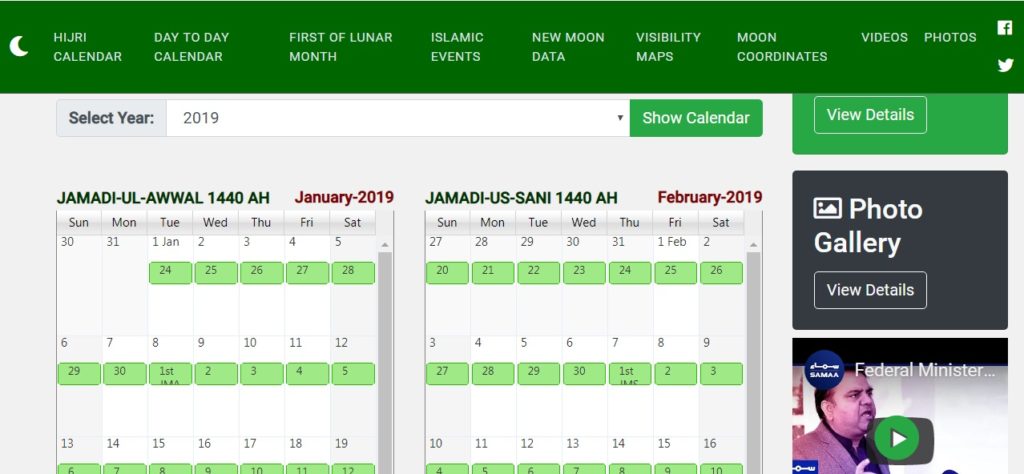 This lunar calendar has been prepared under experts and is scientifically approved and according to the 5 years lunar calendar Eid-ul-Adha will be celebrated on August 12 of this years and people can amazingly track by just one click and get the lunar information from 2019 till 2024.
However, this government-owned official website has been designed with the help of the Metrological department and Space and Upper Atmosphere Research Commission. The users can see monthly reports, Hijri calendar, Islamic Events, day to day calendar, new moon data, first of the lunar month, moon coordinates and visibility maps along with photos and videos.
Moreover, the latest news regarding the moon and Latest Event are also available on the website. The users can find the details through their map and show the results of major cities.
Furthermore, this facility is available as a website and as a mobile application which will be available on the Google Play store. The mobile application is currently under the preparation by the scientific committee and will soon be available on mobile phones.
Fawad Chaudhary said that the role of religious scholars will remain to be prestigious regarding their opinion but the moon sighting issue has been solved due to this innovation and would definitely help in many ways.