All Samsung lovers knew that the South Korean tech giant company Samsung was busy in preparing the new version of Galaxy Note series. Now Samsung is ready to launch its upcoming tablet cum mobile phone Samsung Galaxy Note 10+ on August in Brooklyn, New York. Meanwhile, before the official unveiling of the device, some of the leaked pictures have been moving on the internet. These leaked pictures show amazing changing in the design of Galaxy Note 10 plus comparatively other versions.
However, the major change in the design can be observed through the leaked picture is the selfie hole punch camera, centered in the top middle part of the display. This design has the sharper corner than the previous designs. Rather than the dual front cameras like Galaxy S10+, this Note 10+ will have one single camera in the top center.
Moreover, Galaxy Note 10+ display is expected to be 6.7 inches and a 5G variant of the latter. Still, the pictures are blurred but the overall design can be observed easily plus one of the pictures shows its name on the display. We can see a whole bezel-less amazing display which definitely looks classy and it also going to have a display fingerprint scanner like S10.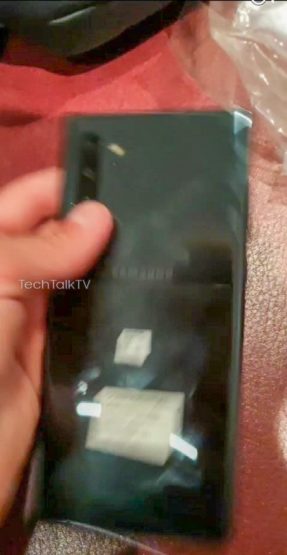 Furthermore, at the back, we can see the aligned triple cameras and the LED light flash is placed beside cameras. Along with the new changing in design, we can also expect the amazing changing in the features as well which have not been unveiled yet. Samsung Galaxy Note 10+ is expected to have a powerful battery with Exynos 9825 processor and also hope for the better SPen experience in this device.
Still, we need to wait for a month as it is going to be officially unveiled on August 7 but we can hope for more leaked information of this amazing upcoming device.