The famous actor and the star of "Na maloom Afraad" Pakistani movie have gained a huge fan following in the last few years and had also done amazing projects. Well, if you are the social media person you would be aware of the recent post of Mohsin Abbas's wife Fatima in which she opened about her relationship with her husband and talked about the domestic violence she had faced in last few years. This post has spoiled the good boy image of Mohsin Abbas Haider and Fatima gained all the sympathies of everyone.
Fatima shared the horrifying details of her abusive relationship where she has been beaten by Mohsin often even when she was pregnant with her son. She claimed that Mohsin was dating some model and cheated on her and when she asked it, instead of being embarrassed he beat her badly.
Moreover, Fatima also attached some pictures of her as a proof in which she showed her bruised face and hands and said that she tried a lot to save this relation but now she had enough. Fatima already registered the FIR against Mohsin for beating her.
Well, everyone got the story of Fatima's side and was waiting for Mohsin to respond with his side of the story and of course justifications. So, while talking to the local media Mohsin responded and said, "I'll come out with my truth. I'm happy, she did this. I was waiting for this for so long. I'll now open up with the truth in front of the public, along with the proof. I will tell the world what happened in our relationship for three years. But I'm happy that this toxic relationship will leave her and me soon."
The Girl Mohsin was dating is the new emerging model Nazish Jahangir and after Fatima's post she shared her Instagram story by saying "Alhumduliallah, All Mine" proved that Mohsin cheated her pregnant wife.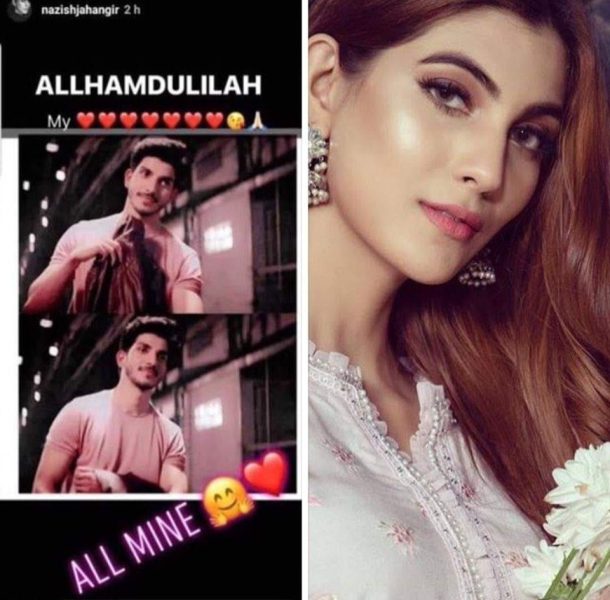 Even Mohsin commented on the post of Fatima in which he wrote, "Stop being a cheap feminist and let's discuss the matter at home" later, he deleted this comment.
Well, the public responded immediately on her post and some of the celebrities who know her also confirm that they knew Mohsin had a habit of beating his wife but Fatima didn't want to disclose it so they remained quiet. Many of the celebrities jumped into the matter and tweets against their fellow Mohsin and supported Fatima in this matter.
Check out how celebrities supported Fatima